Defensive cards
Defense
Defensive buildings
Defensive buildings in your deck. Having one helps a lot in defense.
Missing

Offensive cards
Attack

Swarms & Bait
Bait
Bait cards
If you have multiple cards that are countered by the same spell, you can play one card to bait the spell, then you can safely play the other card(s).

Ladder info
Ladder
Some cards can be both level-independent and weak/strong when under/overleveled. Example: A lower-level Ice Golem doesn't kill Skarmy, so it's 'Weak'. However, in other aspects such as tanking, it works perfectly fine on lower levels.
Level-independent
Cards that are good even on lower level. Their key stats are not influenced by the level too much and no key interactions are level-dependent.
Strong when overleveled
Cards that are particularly strong if you have them on higher level. Their key interactions with some cards are changed when they are level or two above the other card.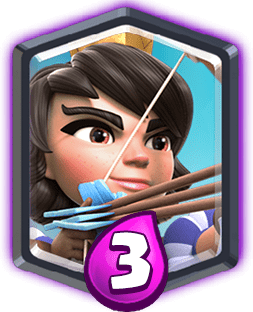 Free-to-play score
For a quick orientation about how easy it is to level up the deck for free-to-play players. The more epics and legendaries it contains, the lower the score.
RIP