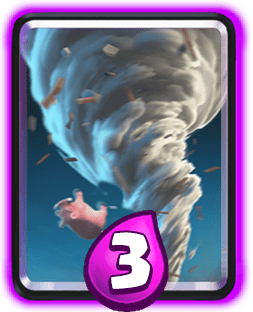 | | |
| --- | --- |
| Damage | 169 |
| Tower damage | 58 |
| Spell radius | 5.5 |
| Trvanie | 1 |
Najlepšie decky
Najlepšie decky s Tornado
Štatistika karty
Level

Damage

Dmg

Tower damage

Tower dmg

6
106
38
7
116
40
8
128
44
9
140
48
10
154
54
11
169
58
12
186
64
13
204
70
14
224
78
15

(Mirrorované)

(Mirr.)

246
84
16

(Mirrorované)

(Mirr.)

271
94
Tornádo spôsobuje poškodenie každých 0.5 sekúnd, po dobu 2.5s, to znamená, že existuje 5 damage "ticks" (alebo "t" v skratke).
Expert area
Properties and roles of Tornado
Tornado can counter these cards
68/108
Cards that are countered by Tornado fully or partially. Cards that Tornado can stop or help mitigate the damage. Tmavšia karta = menej efektívna, ale stále counteruje.
Synergie s Tornado
106/108
Cards that work well with Tornado. Stmavnuté karty = menej efektívne, no stále synergia.