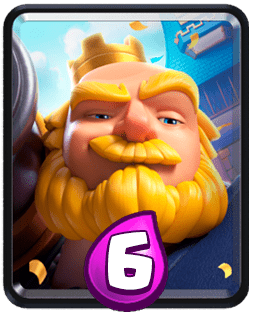 | | |
| --- | --- |
| Body života | 3072 |
| Damage | 307 |
| Rýchlosť útoku | 1.7 |
| Range | 5 |
| Rýchlosť | Slow |
Najlepšie decky
Najlepšie decky s Royal Giant
Štatistika karty
Level

Hitpoints

HP

Damage

Dmg

1
1200
120
2
1320
132
3
1452
145
4
1596
159
5
1752
175
6
1920
192
7
2112
211
8
2316
231
9
2544
254
10
2796
279
11
3072
307
12
3372
337
13
3708
370
14
4068
406
15

(Mirrorované)

(Mirr.)

4464
446
16

(Mirrorované)

(Mirr.)

4908
490
Not killed by












... or any reasonable spell combo.
Expert area
Properties and roles of Royal Giant
Countre na Royal Giant
58/108
Karty ktoré counterujú Royal Giant úplne alebo čiastočne. Tieto karty môžu byť efektívne pri zastavovaní Royal Giant alebo môžu absorbovať poškodenie. Tmavšia karta = menej efektívna, ale stále counteruje.
Synergie s Royal Giant
67/108
Cards that work well with Royal Giant. Stmavnuté karty = menej efektívne, no stále synergia.