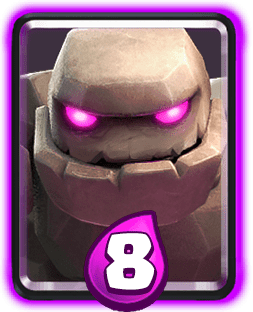 | | |
| --- | --- |
| Body života | 5120 |
| Damage | 312 |
| Death damage | 224 |
| Rýchlosť útoku | 2.5 |
| Rýchlosť | Slow |
Najlepšie decky
Najlepšie decky s Golem
Štatistika karty
Level

Hitpoints

HP

Damage

Dmg

Death damage
6
3200
195
140
7
3520
214
154
8
3872
235
169
9
4256
259
186
10
4672
284
204
11
5120
312
224
12
5632
343
246
13
6176
376
270
14
6784
413
296
15

(Mirrorované)

(Mirr.)

7456
454
326
16

(Mirrorované)

(Mirr.)

8192
499
358
Not killed by












... or any reasonable spell combo.
Expert area
Properties and roles of Golem
Countre na Golem
41/108
Karty ktoré counterujú Golem úplne alebo čiastočne. Tieto karty môžu byť efektívne pri zastavovaní Golem alebo môžu absorbovať poškodenie. Tmavšia karta = menej efektívna, ale stále counteruje.
Synergie s Golem
60/108
Cards that work well with Golem. Stmavnuté karty = menej efektívne, no stále synergia.