De uitdaging
Inkombedrag
1 Gratis inkom, dan 100
Gegarandeerde prijs
700 + 10
Topprijs

11 000

+ 550
Regels
Het is een keuze-uitdaging.
You or your opponent have a chance to draft Magic Archer.
Alle kaarten zijn naar toernooilevel.
1-keer prijzen
| | |
| --- | --- |
| 1 000 | bij 2 overwinningen |
| ×20 Zeldzaam | bij 4 overwinningen |
| 3 000 | bij 6 overwinningen |
| ×5 Episch | bij 8 overwinningen |
| 10 000 | bij 10 overwinningen |
| Magische Boogschutter | bij 12 overwinningen |
| 25 000 | voor een volle uitdaging |
Bekijk eerst deze Gids!
Speel vroeg
In the first few hours of the challenge, it is usually easier to win. As the time goes by, the players learn to play with the new card and to counter it, so it gets harder.
Kiezen of niet kiezen?
It is a card requiring skill and precise placements. But it is a unit with completely new mechanics, so the interactions will be new and the opponent will have a hard time defending it effectively. I'd most definitely pick it!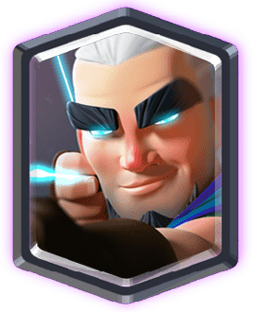 4 · Legendarisch Legendarisch · Arena 11 A11
Ranged ground unit with arrow passing through all the enemies with splash damage. Health and hit speed as a Flying Machine, damage as an Ice Spirit and range as a Royal Giant (roughly). Dies to Fireball and Poison.
Counters
De grootste counters - spreuken. Het sterft aan Vuurbal!
It is quite fragile, so splash units counter it:
Je kan iets patserig gebruiken om het af te leiden:
Gelinkte videos
Veel succes in de uitdaging!