1-keer prijzen
1 000

bij 2 overwinningen

2 000

bij 3 overwinningen

3 000

bij 4 overwinningen
×

1

Elektro Draak
bij 6 overwinningen

6 000

bij 7 overwinningen
×

1

bij 8 overwinningen

9 000

bij 10 overwinningen
×

1

bij 11 overwinningen
×

20

Elektro Draak
bij 12 overwinningen

32 000

voor een volle uitdaging
De uitdaging
Inkombedrag
1× Gratis entree, dan 100
Gegarandeerde prijs

700

+

10

Topprijs

11 000

+

550
Regels
Het is een keuze-uitdaging.
You or your opponent have a chance to draft Elektro Draak.
Alle kaarten zijn naar toernooilevel.
Tips voor de uitdaging
Kiezen of niet kiezen?
Pick! It is a strong defensive card that doesn't require as precise placement as other cards.
As with every draft, you have to be smart about your choices. If you have Electro Dragon, you can give them Sparky. If you take Lightning, you can give the eDragon away.
Speel geduldig, speel veilig
Dit is een algemene tip voor elke match. Speel geduldig, niet te overhaast, maak positieve elixir uitwisselingen in verdediging, counterpush met de rest van de troepen enz. Als je een risico waagt, dump je al je elixir bij de brug, hopen om je tegenstander te verdedigen, er is een grote kans dat het niet lukt. Zeker tegen betere spelers.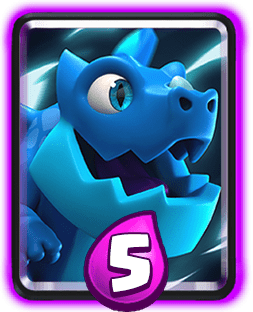 Episch · Arena 11
Strong defensive flying unit similar to eWiz. Its attack hits up to three units and it stuns. RIP Sparky.
Electro Dragon can get rid of support troops easily. Watch out for being pushed out of range.
RIP Sparky. And you have a great counter attack.
Counters
It is quite fragile, so not that hard to take out. The key is to not put your units close to each other.
Best countered by spells:
Also countered by air troops:
Or single high-damage units:
Samenhang
It is best suited as a defense turned into offense behind a tank.
Het gaat tegen
It stuns and resets:
It's great to snipe units behind tanks:
Its chain attack deals well with swarms:
Veel succes in de uitdaging!
Hielp deze gids je?
Laat mij weten op@deckshoppro (Ik meen het!)
— pavelfi
Gelinkte videos
Meer gidsen