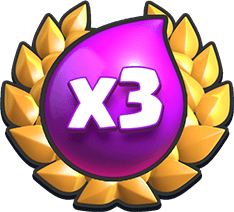 Triple Elixir Challenge Tips
Challenge info, decks and tips to help you win!
Last updated: 09/21/2018
Double Elixir
Double elixir is similar to a normal game, you can basically play any good 1v1 deck. The only difference is that you'll be able to play more aggressively from the beginning.
Challenge tips
More expensive decks work
You'll have a LOT of elixir. It is good to use a deck that is more expensive, so you can overwhelm your opponent. You may even lose a tower or two, then win with a 3-crown.
In this challenge, control decks that require a lot of skill don't work that well. During triple elixir, it's hard to defend the massive pushes.
Go for a second tower
During double or triple elixir, it is really hard to defend the lower-hp tower. You can be spell-cycled more easily, the opponent has more elixir to build larger pushes. The best defense is offense!
Don't overcommit on defense, go on offense into other lane. There's a big chance, the game will end up 2:1 or 3:2.
What cards to use?
Certain cards work well in the current meta. If you're lucky to have them.
Check Deck Shop for new deck ideas
As pros on twitter and youtubers share new decks, the challenge meta shifts, which means that what worked in the first day, may not work the second day. Make sure to come back here to check the current best decks for the challenge.
Recommended decks
Few decks for your inspiration, that I think may work in this challenge.
Good luck in the challenge!