One time rewards
×

1

at 1 wins
×

1

at 2 wins
×

1

at 3 wins
×

1

at 4 wins

4 000

at 5 wins

6 000

at 6 wins
Lightning
at 7 wins

8 000

at 8 wins

10 000

at 9 wins
×

1

Ram Rider
at 10 wins
Legendary
at 11 wins
Legendary
at 12 wins
Legendary
at 13 wins

30 000

at 14 wins
Emote
at 15 wins

58 000

for a full challenge
The challenge
| | |
| --- | --- |
| Continue cost | 100 |
Rules
It is a challenge with a continue option.
After 3 losses, you can reset them and continue for gems.
There are only one-time rewards.
It is a draft challenge.
You or your opponent have a chance to draft Ram Rider.
All cards are leveled up to a tournament standard.
Make sure to check out this Guide first!
Challenge tips
Pick or not to pick?
Pick! It is a strong card with completely new interactions. But I think it is worth to have it, as opposed to giving it to your opponent.
But as with every draft, you have to be smart about your choices. In some cases, it makes sense to give it to your opponent.
Play patiently, play safe
This is a universal tip for any match. Don't rush, play patiently, make positive elixir trades on defense, counterpush with your remaining troops etc. If you risk, dump all your elixir at the bridge, hoping to surprise your enemy, there's a high chance you'll fail. Especially against better players.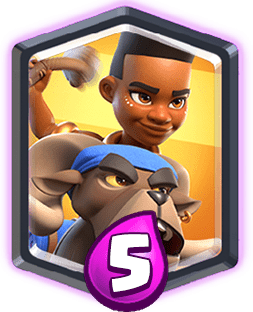 Legendary · Arena 10
A legendary minitank that charges to buildings while attacking and immobilizing enemy troops. A lot of new mechanics at once!
Counters
Reset her charge or push her back.
Make sure to place your melee units directly in her path.
Ranged units work well.
Buildings are a great defense too.
Good luck in the challenge!
Did this guide help you?
Let me know at @deckshoppro. (I mean it!)
— pavelfi
Related videos
More guides