Deck

3.6
Hodnocení decku
Hodnocení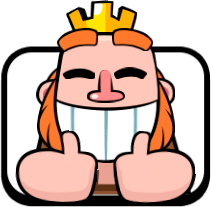 Obrana

Obranný potenciál

Super!

Útok

Útočný potenciál

Božské!

Všestrannost

Všestrannost decku

Dobrý

Synergie

Synergie decku

Dobrý

Deck tipy
Základy
Následující doporučení ber pouze jako vodítko, jak vylepšit deck. Třeba ti funguje i tak, jak je.
Tvůj deck je v pohodě!

Podobné decky
Podobné

Defensive cards
Obrana

Offensive cards
Útok

Swarms & Bait
Bait
Bait karty
If you have multiple cards that are countered by the same spell, you can play one card to bait the spell, then you can safely play the other card(s).

Info k ladderu
Ladder

Cyklus decku
Cyklus
Synergie   5 8
Synergie znamená, že karty fungují dobře, když se hrají spolu. Kombinace karet lépe útočí a nebo brání než obě karty hrané zvlášť. Tmavší karty znamenají, že synergie není tak účinná.
Countery   51 77
Countery proti hrozbám
Karty, které counterují hrozby, které může soupeř zahrát. Tmavší barva znamená, že karta necounteruje druhou úplně sama, ale jen pomáhá v obraně.
Countery proti zbytku karet
Countery proti zbytku karet, co může nepřítel zahrát.