Deck

4.3
Deck rating
Rating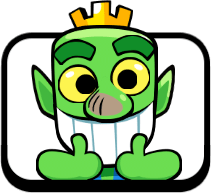 Defense

Defensive potential

Great!

Attack

Offensive potential

Great!

Versatility

Deck versatility

Godly!

Synergy

Deck synergy

Mediocre
Missing cards in your collection

Deck tips
Basics
Following recommendations are only guidelines on how to improve your deck. It may work fine as it is.
Warning
No medium or high-damage spell.

It is good to have one medium or high-damage spell in your deck. You can use it to finish opponent's tower or against units clumped together. Consider adding one of these:

Let's fix it!

Defensive cards
Defense

Offensive cards
Attack

Swarms & Bait
Bait
Bait cards
If you have multiple cards that are countered by the same spell, you can play one card to bait the spell, then you can safely play the other card(s).

Ladder info
Ladder
Some cards can be both level-independent and weak/strong when under/overleveled. Example: A lower-level Ice Golem doesn't kill Skarmy, so it's 'Weak'. However, in other aspects such as tanking, it works perfectly fine on lower levels.

Deck cycle
Cycle
Synergies   2 7
Synergy means that these cards work well when played together. They complement each other to make the attacks or defenses more effective. Dimmed cards mean the synergy is not so effective.
Counters   53 85
Counters to threats
Cards that can defend the main threats your opponent can play. Dimmed cards mean that the counters will only help in defense, not stop the unit completely by itself.
Counters to rest of the cards
Counters to the rest of the cards the opponent can play.